I know I went on and on about how my time in Galway was a love affair for the ages, and I still maintain that a piece of my heart belongs there, but I can't deny that after experiencing all of the amazing things to do in Lisbon Portugal, my heart has found yet another crush.
With it's sexy slow-paced rhythm, winding white-and-black tiled streets, gentle sea breezes, and unbelievably sunny afternoons, how could a girl not fall in love?!
I went to Portugal with no expectations. Of course I assumed I would like it, but I hadn't done much research so I wasn't entirely sure what I'd find.
To summarize: Lisbon is a laid-back city with an extremely rich history, it has great food for very low prices, world-renown hostels, and a strong music culture. 
I kept finding myself comparing it to Madrid (where I've been living for the past 6th months), and I found it to be cheaper, have better food, and to be a much more beautiful city in general. I might be biased since I love cities that are close to water, but there was something so charming about Lisbon.
Also, nearly everyone I met spoke or understood English, much more-so than in Madrid or Paris. It's always a good idea to learn a few basic sentences to be polite, but don't think for a second that you'll have a difficult time in Portugal if you don't speak Portuguese!
---
---
WHERE TO STAY
If you're on a budget:
Two of the best hostels in the WORLD are in Lisbon. Even if you're not normally a hostel-lover (I'm not usually a huge fan), you should still consider checking out Home Lisbon Hostel.
They recently won an award for "Best Medium Hostel in the World" and it's easy to see why. Just check out their Facebook page or profile on Hostelworld.com; almost every single reviewer claims it's the best hostel they've ever stayed in, and I can definitely say the same.
The hostel is spacious and beautifully decorated, the community of travelers is warm and inviting, and the location couldn't be better. You get the feeling that you're staying in someone's gorgeous home, rather than in a hostel.
The owner's mother ("Mama") makes an amazing dinner for anyone who signs up (10 euros) every night. It includes an appetizer, entree, dessert, wine during the meal and a toast with local Portuguese liquors/wines at the end. It's a great way to experience local cuisine & make friends from around the world.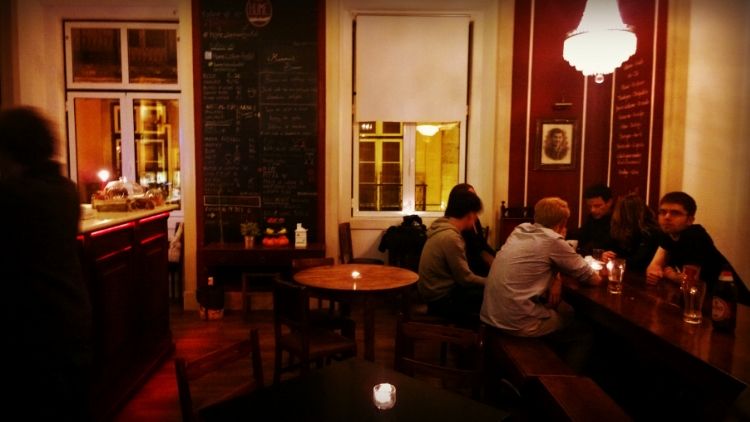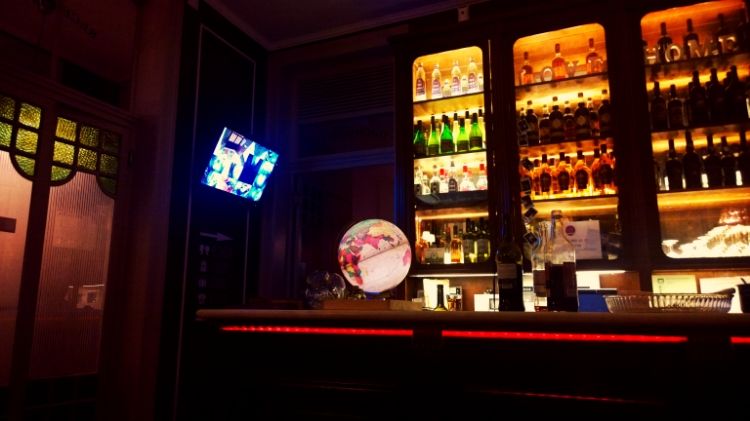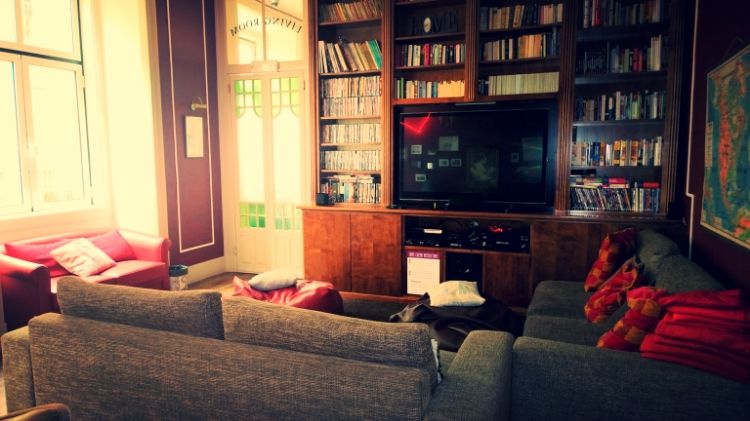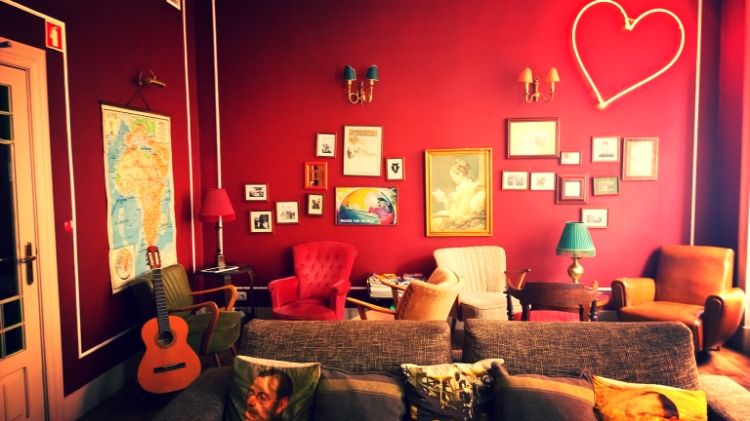 If your budget is a bit bigger:
If you aren't into the hostel scene & you have a slightly higher budget, I'd recommend renting a room or flat via AirBnb. At one point I was considering staying in Lisbon for a month, so I was searching for something cheap on AirBnb, and I found some really great options!
Staying near the water would be lovely, or in Bairro Alto, the hip-bohemian neighborhood with great restaurants and bars that really come alive at night with a mixed international crowd of all ages. Here are a few examples of what I found:
Cozy flat for 2 people for $72/night.
Gorgeous loft for 4 people for $89/night.
Amazing home for 5 people for $74/night (with Portuguese cellphone during your stay).
Double private room with a view in Bed and Breakfast for $66/night.
Cute double room in a shared flat for $43/night.
WHAT TO DO
Free walking tour
I highly recommend starting off your stay in Lisbon Portugal with a free walking tour from Wild Walkers. It's about 2 hours long, so bring your walking shoes and a camera because there will be tons of great photo ops. Lucky for you, Lisbon is a very photogenic city!
The tour guide was probably the best I've ever had due to his honest, quirky & interesting presentation of Lisbon. He was so good that we decided to also take his fado Tour…
The tours are offered every day, and assuming you enjoy it, it is customary to pay a small donation/tip at the end.
Watch the videos in HD for better quality!
Fado tour
If you do a Google search on Portugal, the musical genre of fado is sure to come up.
Fado generally has a melancholic tone, and was traditionally sung by the poor & the outlaws to express their sorrows, but it has experienced a resurgence in recent years. I don't want to give away too many details about the history of it, because it's much more fun to learn from the local tour guide, but I can promise that it is fascinating.
Of course you could find an expensive touristy dinner & fado show package on your own, or even dig up a few free fado bars to check out, but chances are you won't know what you're listening to, you won't understand the lyrics, and you'll end up with a very superficial appreciation for the music.
The fado tour from Wild Walkers costs 15 euros & includes: a local guide who is extremely passionate and knowledgeable about fado & its history, free local ginjinha cherry liquor in a traditional chocolate cup, tapas & wine at a fado restaurant during the show, translations from the guide and discussions about the meaning of each song, plus a behind-the-scenes tour of the restaurant. We even got to meet and talk with the performers!
I was so thrilled by this tour, I would do it again in a heartbeat. To be honest, I looked up a fado video on Youtube before my trip, and wasn't blown away. This tour completely changed my perception of the music, and was the most memorable part of my time in Lisbon. Of all the things to do in Lisbon, I recommend this tour the most!
As you might know, I obsessively seek out live music when I'm travelling, but I truly believe this is an activity that everyone would enjoy.
The fado tours are not offered every day, so contact the company beforehand to find out when they are.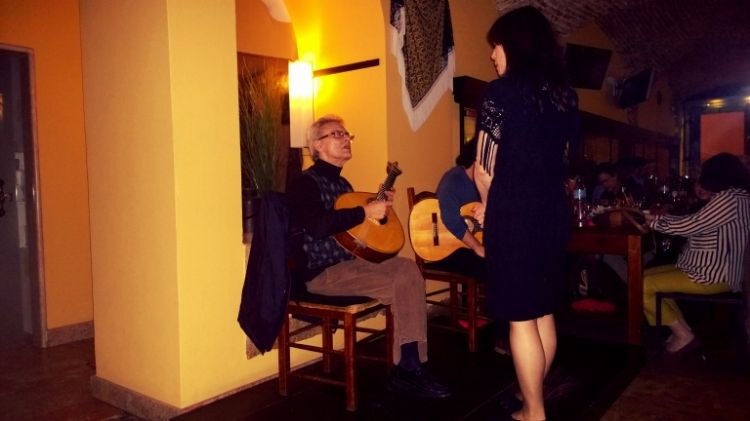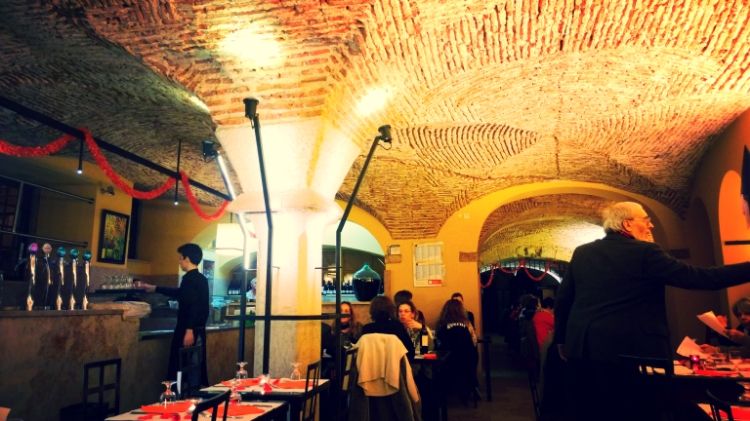 To watch more videos of Fado & other musical performances from Lisbon, read my post on "Music in Lisbon".
People watch in Praça do Comércio
People watching is a great activity that can be done in any cafe or plaza anywhere in the world. But doing it in Praça do Comércio, despite its popularity with the tourists, is definitely worthy of a few hours in your schedule.
I recommend going in the mid-afternoon to soak up the last of the sun and relax with a cup of coffee or wine. Make sure to grab a seat at one of the restaurants on the left, then turning your chair outward to face the center of the square.
The food served at the restaurants here is good but definitely on the pricey side, so it's best to plan on just having a drink and grabbing lunch/dinner elsewhere.
BUDGET SAVING TIP: If you're trying to save money, grab some snacks from a market and head across the street from the Praça do Comércio. You can sit right by the water for as long as you want, & take in the river and the plaza at the same time. You might even catch some free live music…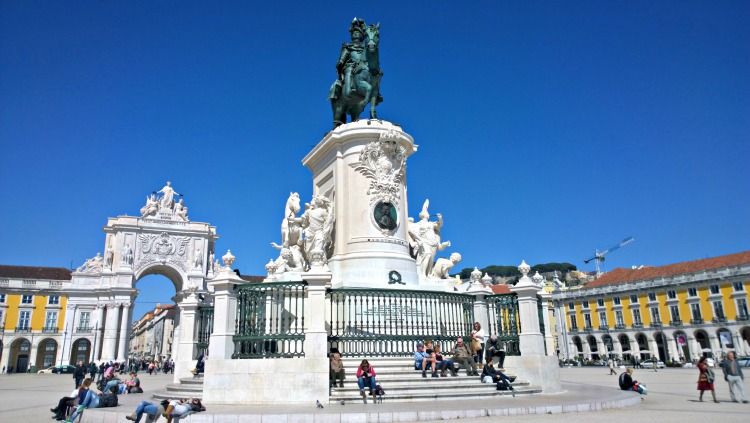 Catch a sunset from ZamBeZe Rooftop Restaurant
You'll be taken to the ZamBeZe rooftop during the day on the free walking tour for the great views of the city, but it's definitely worth going back in the evening to catch a sunset.
If you're on a budget, you can order just a glass of water or wine while taking in the scenery. I even saw some people sitting on the edge of the rooftop who did not appear to be paying customers, so you could make this a free activity.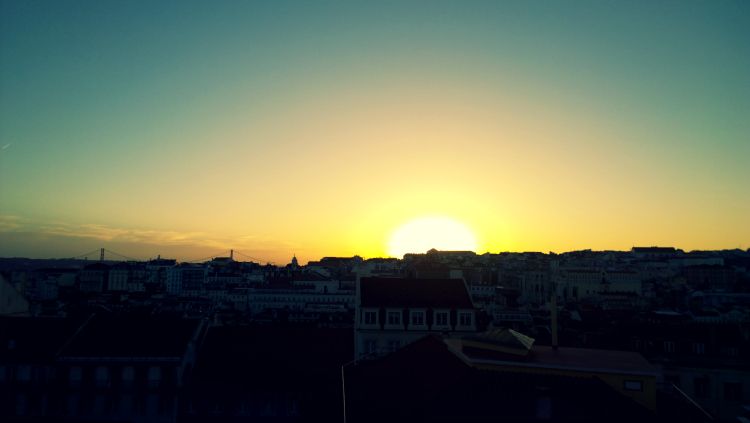 Experience Lisbon nightlife
Lisbon is known around Europe for its amazing nightlife. Having spent the past 6 months in Madrid where the nightlife doesn't end until 9am (or later), I wasn't totally blown away by the nightlife, but found it to be pretty on-par with Madrid. Americans read: you will most likely be blown away. 
If you're staying at Home Lisbon Hostel, and  feeling like a big night out, just hop on the Pub Crawl that stops by the hostel every night.
The best neighborhood for a mix of eclectic bars with something for everyone is the Bairro Alto area that I mentioned earlier. The bars here close at 2 or 3am, so if you're in the mood to dance or keep drinking, you'll probably want to head to a club.
There are no clubs in Bairro Alto, but a local recommended Lux Club for a good time. There's also a popular club called Lust in the Praça do Comércio.
Take a day trip to Sintra
Sintra is sometimes described as "the most romantic place on Earth", and I couldn't agree more. There is so much to do and see that I would recommend not trying to fit it all into one afternoon; it's best to spend an entire day there.
A trip to Sintra deserves its own post, so keep your eyes open for one soon.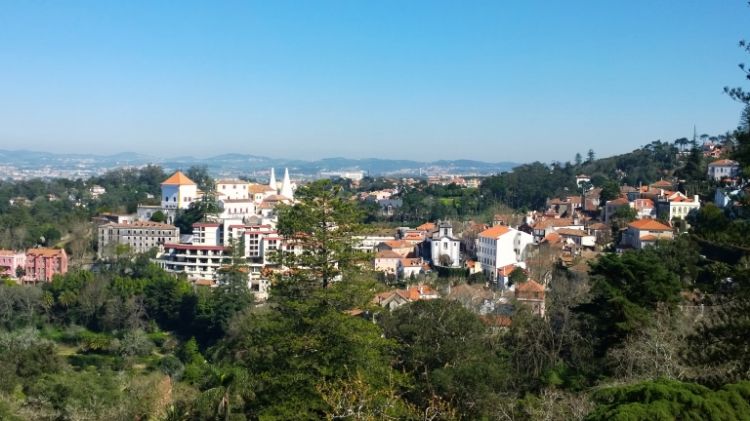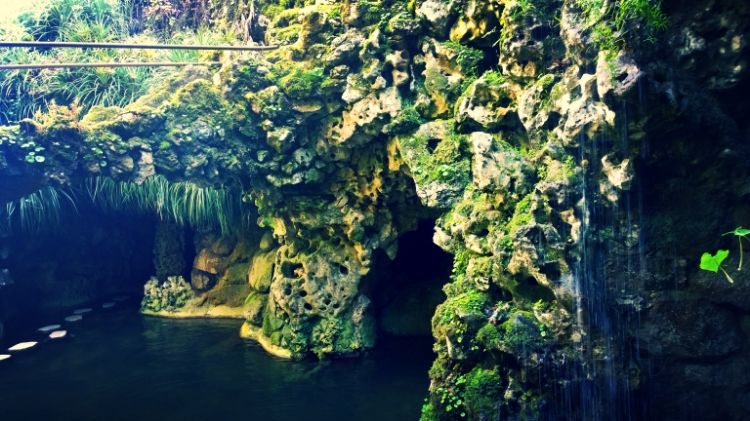 ---
---
WHAT/WHERE TO EAT
The Portuguese seem to be a big fan of large portions of very filling, but relatively healthy foods. The food scene is quite international (more-so than Madrid), so you can find pretty much anything.
Bacalau, or cod, is the local favorite (but don't be fooled, the fish actually comes from Norway according to my walking tour guide), so you can't leave Lisbon without giving that a try because you'll see it EVERYWHERE.
You can ask your hostel, hotel, or walking tour guide for more recommendations, but here are a few:
Santa Rita Restaurante
Recommended by a local, this is a fantastic spot for lunch. The portions are ENORMOUS, the food is extremely cheap, and it's mostly filled with locals. It's a little hard to find, but well worth the effort.
Keep in mind that in Portugal when the waiters put bread and butter on your table, you have to pay for it if you eat it – it's not included with your meal.
Taberna Ideal
This was recommended to me by a local who said it was his favorite restaurant in Lisbon, but there were no tables open when I showed up on a Saturday night.
(Make a reservation regardless of the night to be safe! Not only is it a local favorite, I just discovered that it's listed on the Lonely Planet site. This place is apparently so good that it's not a secret!)
Luckily, they own a second restaurant right next door called Petiscaria Ideal, that had a few tables open.
Both restaurants are tapa-style, meaning you order a few different small plates to try and share them between your group. The food at Petiscaria was some of the best I've had in 6 months in Europe, so I can only imagine it was similar or better at Taberna Ideal.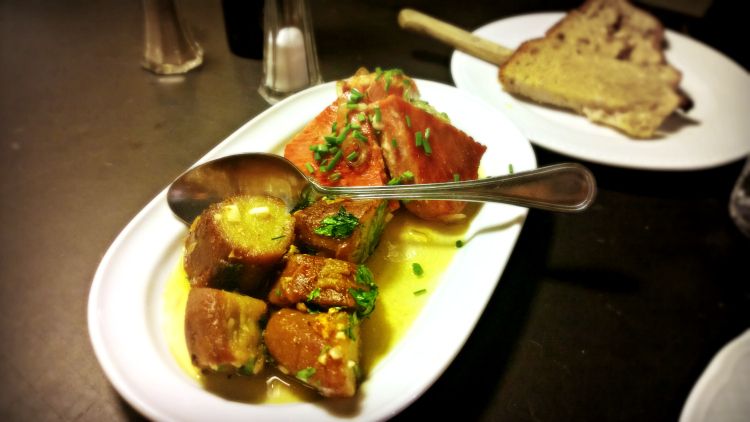 Pastéis de Belém
Pastel de nata is a delicious Portuguese egg tart & Pastéis de Belém is a bakery famous for it's own unique version of it. There's usually a bit of a line, but it moves quickly and the pastries are warm, fresh & delicious. They're so good, you might as well leave your self-control at the door and order at least two.
The pastry has a pretty interesting history, so I'll refer you to Wikipedia if you'd like to learn more.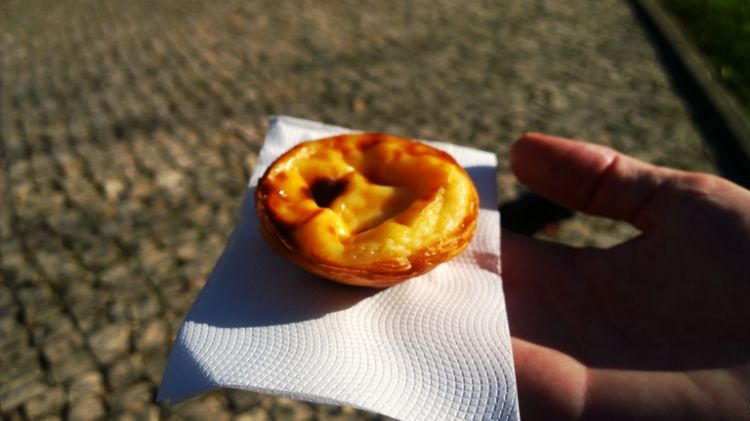 Trobadores Taberna Medieval
A unique medieval-style tavern, that goes all out in the details. Everything from the seating, to the candles, to the decor and the goblets seemed authentic.
This is more of a place to grab a drink, although there were tapas and small meals available.
To complete the experience, I recommend trying the mead (or hidromel in Portuguese)!
WHEN TO GO
Spring and Fall to take advantage of the pleasant temperatures, smaller crowds, and cheaper rates.
There is a huge festival called the Feast of St. Anthony in June, that draws loads of tourists and locals into the streets. If you're planning a trip during that time, make sure to book your accommodations many months in advance.
I've heard many travelers profess their love of Lisbon, but most of them have spent a significant amount of time travelling in Europe.
I've rarely heard family or American friends ever express a desire to visit Lisbon, or even any interest in it.
Paris, London, Italy and Greece are always mentioned (often in that order), with Germany, Ireland and Spain occasionally making the list.
Of course most people would say they'd love to explore every European country if they had the money, time, freedom, etc., but with limited resources and vacation days, they can only cross a couple of European countries off their bucket list (if they're lucky).
I want you to know that Lisbon is cheap, charming, and 100% deserving of your precious time.
—————
Have any questions about things to do in Lisbon Portugal? Leave them in the comments!
And if not, let me know what other European destinations you would like to see covered here!
---
---